Uganda is a signatory to the Global SDGs, Ministerial Commitment on Sexuality Education, Sexual Reproductive Health Services for Adolescents and Young People in Eastern and Southern Africa (ESA commitments). Under the SDG 3, 4 and 5, plus ESA commitments, State Parties are required to provide SRHR knowledge and services to all people especially youth.
We have seen these domesticated through the Uganda Vision 2040, Gender in Education Policy and Strategic Plan 2017, National Strategy for Girls' Education in Uganda (2014-2019), and the National Sexuality Education Framework 2018-2022.
To contribute to attainment of the above, Reproductive Health Uganda (RHU) is continuing with her tailored interventions at the Right time to the Right audience at the right place, hence organizing the Inter-University Dialogue on Sexuality 2018.
This year's theme for #IUDUg18, "Age –Appropriate Sexuality Education for Vision 2040" aims to constitute a reminder on the fundamental importance that Sexual Health being critical in one's life to achieve full potential needs a holistic approach with rights and responsibilities.
We invite everyone to imagine, to picture themselves owning their sexual health. In this sense it is important to remember the World Association for Sexual Health/World Health Organization working definition of Sexual Health (2002): …a state of physical, emotional, mental and social well-being in relation to sexuality; it is not merely the absence of disease, dysfunction or infirmity.
Sexual Health requires a positive and respectful approach to sexuality and sexual relationships, as well as the possibility of having pleasurable and safe sexual experiences, free of coercion, discrimination and violence. For sexual health to be attained and maintained, the sexual rights of all persons must be respected, protected and fulfilled."
In commemoration of the World Sexual Health Day, 2018 celebrations, following the immense success of the previous dialogues, the official launch of the National Framework on Sexuality  Education by Ministry of Education and Sports launched on 21st May 2018, Reproductive Health Uganda through its continued partnership with College of Humanities and Social Sciences (CHUSS), Makerere University  and partners will organize  an  Inter University Dialogue on Sexuality #IUDUg18, under the theme; "Age –Appropriate Sexuality Education for Vision 2040" targeting about 1,000 participants discussing  sexual health, sharing  experiences, and learning from professionals who work in the fields related to sexual health and students who want to learn more about the topic.
Venue: Makerere University, Freedom Square.
Date: Saturday, September, 22nd 2018,
Time:  8:00am-5.00 pm (EAT)
Aim: To use Sexuality Education for enhancement of social economic  participation and empowerment of young people in realization of Vision 2040
Objectives
To create a sustainable dialogue on the role of Sexuality Education in the long term development agenda of Uganda
To enable actors at various levels to understand and commit to their roles/responsibilities for Values-Based Sexuality Education institutionalization.
The dialogue will highlight  
Key components, investment case and obstacles for Sexuality Education in Uganda
Role of universities in advancing Sexuality Education and Sexual Health as a key development concept.
Panelists and participants
About 1,000 participants will discuss and lead events on a variety of key dialogue themes, challenges guided by a shared vision, principles, aspirations and values, with diverse reflections based on the current National Framework on Sexuality Education passed by Ministry of Education.
Participating Universities-Makerere university, Islamic University In Uganda ,Kyambogo University, St Augustine university, Uganda Christian University,Busitema university, Makerere University Business School, Mbarara University of Science and Technology, Kampala International  University, Kampala University, Ndejje University, Bugema University, YCMA University, African Renewal University, St Lawrence University, ,International University of East Africa, Clarke University, Nsamizi Institute for Social Development ,Uganda  Martyrs University plus other interested international universities.
Organizations will have stalls set up to showcase their work, share information resources, and refreshments and lunch buffets provided to all participants.
We shall have renowned panel speakers on sexuality issues who would contribute to our evolving discourse around sexual health and Vision 2040. These will include:
Key note and Guest Speakers
Media personalities
Technical Sexuality Experts from within and outside Uganda
Representatives from Cultural /institutions
Ministry  representatives (Ministry of Gender Labour and Social Development, Ministry of Health Uganda Parliamentary Forum on Youth Affairs),
Guild Representatives, Lecturers, Top leaders, Researchers and Young people from different universities
Representatives of Persons with Disabilities, Albinos and key population
Development partners and CSO representatives
Corporate companies' representatives
Proposed activities
Open discussions and paper presentations  on thematic dialogue issues
Insights into Uganda Sexuality Media watch Wall
#IUDUg18Live at Sexuality  Village
Live streaming of event
Dissemination updates of National Framework on Sexuality Education to University leaderships/ Health and Education committee MPs.
Auxiliary/side events with exhibition booth, for interactive discussions and experience-sharing
Press briefing with various media houses
Participatory Sexual Rights skits
Sexuality related Opinionated surveys
Web-based information and press releases (including social media).
Special Conceptualization session for Sexuality Academy
Production of IUDUg18 Key Call to Action advocacy document
A functional Youth Responsive Corner providing integrated SRHR services and information will run alongside the dialogue
For more details and Partnerships Contact: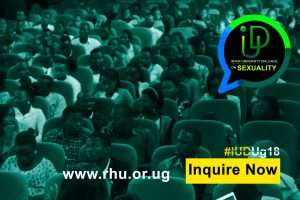 Alex Craig Kiwanuka – Youth Officer Reproductive Health Uganda Fellow-Sexuality Leadership & Development, Africa Regional Sexuality Resource Centre-Nigeria
Mob: +256-755-488988 / 775 223009 Email: ackiwanuka@rhu.or.ug /ackiwanuka@gmail.com
Facebook. Alex Craig   Kiwanuka Twitter @ackiwanuka