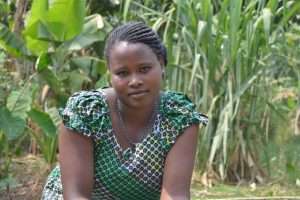 I only heard of cervical cancer during radio programs but I didn't think I would personally experience it… shares Stella Kansiime, a 21 year old mother of one living in Nyamitoma, Kabarole district. Stella had a history of severe headaches and on one such occasion there happened to be an outreach organized by Reproductive Health Uganda (RHU) at a nearby health facility – Kigarama Health centre. "When I reached the outreach site for checkup, I was also given information about cervical cancer and why I needed to go for screening especially since am in a relationship."  She continues.
"We give opportunity to young women or girls to test despite their age (MoH recommends screening to be done for those above 25 years) because many have had early sexual encounters and some even have multiple sexual partners or are HIV positive." Chris Arinaitwe the Reproductive Health Uganda, Kabarole clinic in-charge explains.
"When I was screened, I had the early signs of pre-cancerous cervical cancer… It was so terrifying and I thought it was the end of my life until the RHU counselor said I can get treatment since it was the beginning stages and I would be okay. I received the treatment immediately and when I went for follow up I had no pre-cancerous signs anymore" Stella recalls.
"I have started encouraging my peers to go for checkup. Many of them fear the procedure of screening saying it is very intrusive. My message to other women and girls is to make sure they go to the nearest health facilities or the RHU clinics to be screened because that is the only way they can save their lives." Stella advises
Stella now plans to go back to school for a vocation course in tailoring or hair dressing when her baby gets older. She also wants to start a small business which will supplement her husband's income.