ASK RHU: THE BIG PICTURE PHOTO COMPETITION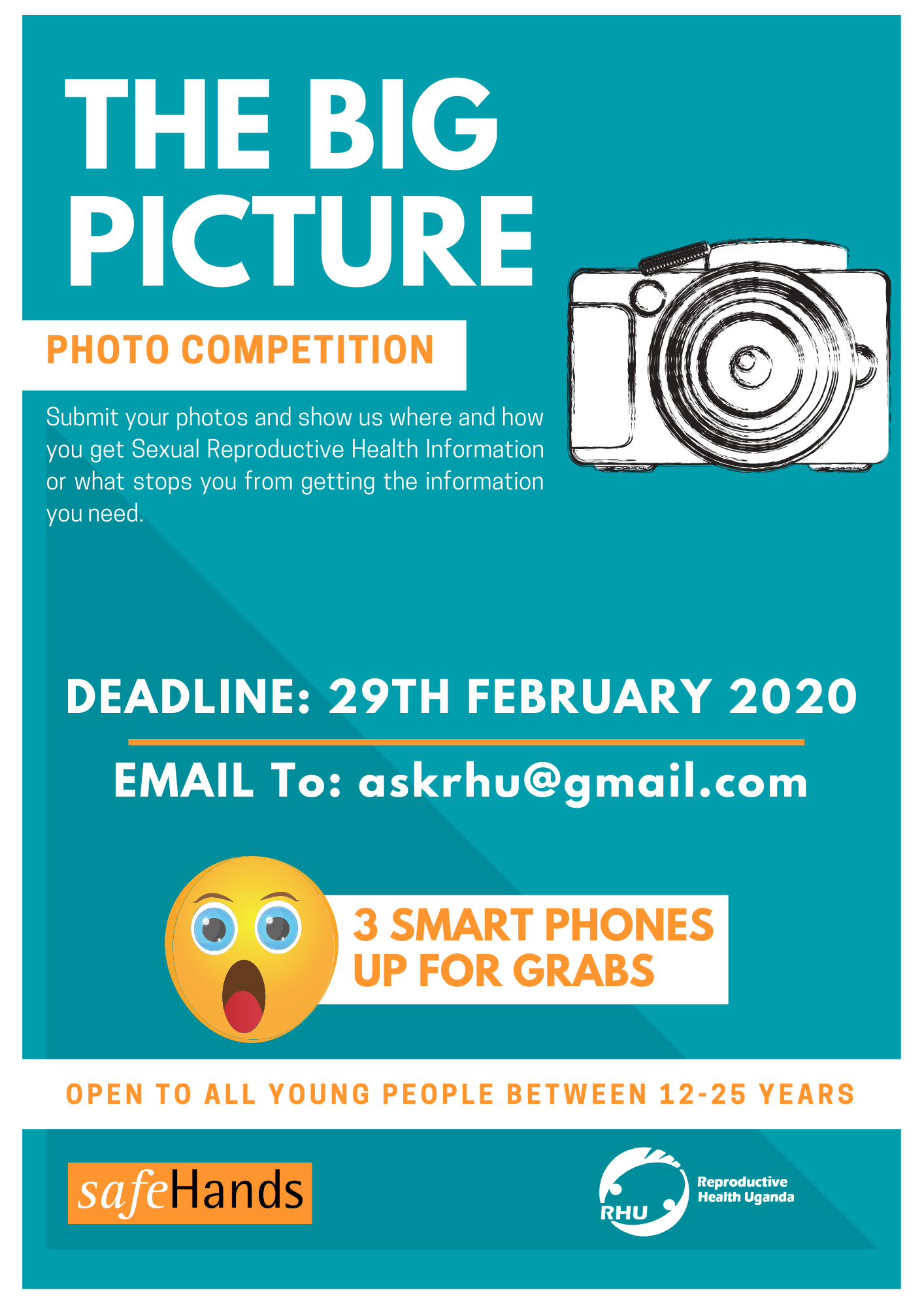 About the competition :
Reproductive Health Uganda (RHU) together with SafeHands believe that young people have the power to make things happen. We believe that progress on young people's sexual and reproductive health and rights (SRHR) can only be made when we recognize young people's ideas and perspectives. We want to know what young people want when it comes to safe sex information and thus #AskRHUBigPicture
Young people aged 12 – 25 years old across Uganda are encouraged to submit photographs online to the Big Picture Photo Competition. Photographs will be assessed based on visual composition, story it communicates and originality. Three winners will be announced and awarded a smart phone each. Finalists will be included in a national exhibition in Kampala and a global exhibition.
Judging will take place with a panel of up to four judges that have experience in photography and trust in the power of the visual as effective media to convey young people's perspectives on access to safe sex information. RHU and SafeHands will analyse the submission of photographs to gain an understanding on the main enablers and barriers young people identify during the competition. The outcome from the competition will be included in a publication "What Young People Want" that RHU and SafeHands will disseminate at the Reproductive Health Supplies Coalition (RHSC) Annual Meeting in March 2020.
Photo Competition Main Elements
Eligibility: Photographers must be between the ages of 12 – 25 years of age. Each submission must be made by the photographer and photographers are limited to 3 submissions each.
Submission: Submissions will be made only through the given email; askrhu@gmail.com
Details:  Names of the person submitting the photos, Age, Email address, Description and location of photo, What device was used to take the photo?
TERMS AND CONDITIONS 
The competition is open to young people, between ages of 12 – 25 years old, currently residing in Uganda and are members of the Youth Action Movement (YAM).
All information detailing how to enter this Competition is part of these terms and conditions. It is a condition of entry that all rules are accepted as final and that the competitor agrees to abide by these rules. The decision of the judges is final and no correspondence will be entered into. Submission of an entry will be taken to mean acceptance of these terms and conditions.
There are three entry routes to this Competition as follow: by email to askrhu@gmail.com Entries must be labelled with the entrant's name and location of the photograph and image files must be 200 pixels and between 1MB and 3MB. Entrants should include their own name, email address and telephone number; or via Instagram or Twitter using the hashtag #AskRHUBigPicture. We regret that we are unable to accept postal entries.
All entries must be received by the advertised closing time and date.
It is the responsibility of each entrant to ensure that any images they submit which include an identifiable person or persons have been taken with the permission of the person or persons pictured and do not infringe the copyright of any third party or any laws. Entrants must warrant that the photograph they are submitting is their own work and that they own the copyright for it.
Copyright in all images submitted for this Competition remains with the respective entrants. However, in consideration of their providing the Competition, each entrant grants a worldwide, irrevocable, perpetual licence to RHU and SafeHands to feature any or all of the submitted images in any of their publications, their websites and/or in any promotional material.
Late, illegible, incomplete, defaced or corrupt entries will not be accepted. No responsibility can be accepted for lost entries and proof of transmission will not be accepted as proof of receipt.
The winning entry will be that that is judged to be the most visually appealing, original and self-explanatory. The winner will be notified within twelve days of the closing date of the competition.
Three entrants shall win a smartphone. Top 10 finalists will be exhibited at a national exhibition in Kampala, Uganda and included in a global exhibition at the Reproductive Health Supplies Coalition Annual General Meeting in March 2020.
The prizes as described are available on the date of publication. All prizes are non-transferable and there are no cash alternatives.
Events may occur that render the Competition itself or the awarding of the prizes impossible due to reasons beyond the control of the SafeHands and RHU and accordingly we may at its absolute discretion vary or amend the Competition and the entrant agrees that no liability shall attach to the SafeHands and RHU as a result thereof.